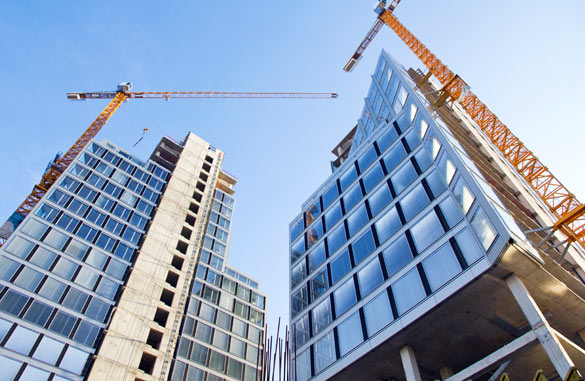 INCON is the lead manufacturer and supplier of Mechanical Couplers throughout North America and the International Market.
We offer a broad range of Coupler systems to supplement projects with state-of-the-art construction solutions and specifically in Rebar Splices. Our products and services include:
Mechanical Rebar Couplers
INCON is a Canadian company specialized in designing and manufacturing high-quality steel products and accessories for the construction industry. With many years of continuous product development, INCON is committed to manufacture products of superior quality and to offer customers the highest level of service. INCON brings its expertise in the rebar mechanical couplers domain to the table and completes all the works as necessary using patented in-house developed equipment and accessories. This spirit of combining outstanding skills and technical expertise has made possible those solutions that were considered impossible.  Our legacy of completed projects throughout North America and the world bear the INCON trademark.
INCON has its association with Projects from Middle East with mega projects and with well-known Mechanical Couplers suppliers in the MENA countries. Our involvement in the market either though direct supply or extending technical
consultancies to suppliers in the area has augmented INCON with local knowledge and understanding the project demand for innovative solution to improve productivity and operation case-by-case.
We are proud to introduce different types of Mechanical Rebar Couples to the market with emphasis to special types that can be of great benefit to contribute to any project success.
DOWNLOAD INCON CATALOGUE PDF
VIEW INCON PRESENTATION
INCON Global Presence
Our consistent and continuous development of superior quality construction products have put us in a global leading position that we will never abandon. We have accumulated the best practices throughout years of ongoing research to put them in our clients' hands. Our innovative products, modern machines and enormous production put us in a global front line to supply our valued clients with the complete solution to their needs. Our facilities produce and sell more than 10 millions mechanical splicing devices to cover the market demands in North America, Europe and Asia. INCON's global success is achieved by earning our client's trust through providing them with innovative products especially designed to meet their needs. INCON prides itself on having successfully delivered all of its projects on time. Our good results have allowed us to create partnerships with our clients and have them procure our services.
OUR MISSION
Incon designs and manufactures high-quality steel products for the construction industry that are suitable for concrete structures.
With more than 20 years of continuous product development, upgrades in manufacturing capability and capacity, Incon is committed to manufacture products of superior quality as well as providing the highest level of customer service.
INCON IS LEAD MANUFACTURER AND SUPPLIER OF MECHANICAL COUPLERS THROUGHOUT NORTH AMERICA AND THE INTERNATIONAL MARKET.
OUR VALUES
Integrity
Integrity and unyielding honesty by adhering to the ethical norms toward building a trust-based relationship with our clients.
Superior Quality
Commitment to providing our clients with superior quality products and outstanding services.
Professionalism
Professionalism in fostering our business environment by ensuring the fluffiness of our promises.
Growth & Development
Continuous growth through embracing open innovation and focusing on our clients' experience.
OUR FACILITY
INCON's Headquarter is located in Canada, where Engineering; Development; Research and Technical Support Departments work together to come up with solutions for the construction industry.
INCON's production facility is located strategically in Hangzhou, China under Canadian strictest quality control. The facility is dedicated to production of reinforcement couplers; heavy and light expansion anchors; anchor channels; precast accessories and formwork accessories.